Winners
Advertising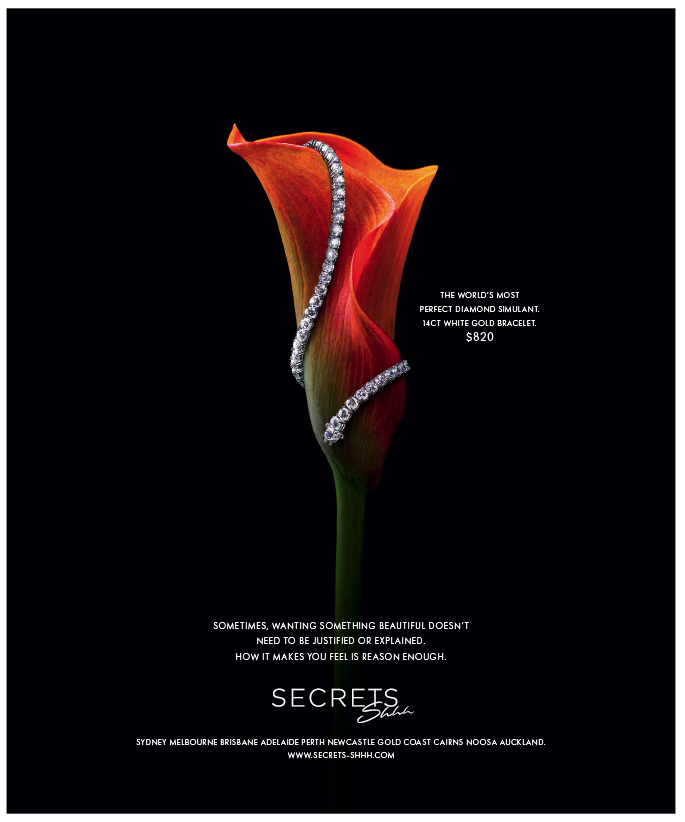 This magazine brand campaign for Secrets Shhh was developed to re-position the brand in consumers' minds and achieve cut through in a category typified by glamorous models. Elegant, beautiful and feminine, flowers reflect the character of Secrets jewellery and make an emotional connection with our target audience. Our advertising created a unique and ownable look for Secrets that is stunning in its simplicity.
Architecture - Commercial - Constructed
A mid century club lounge on a small 21st century budget was the client brief and the conceptual starting point: lots of unfinished wood surfaces, dignified furnishings and splashes of flamboyant colour. With minimum modifications to the building infrastructure, a dynamic resolution was achieved to the delight of the client. Designed in 6 weeks and constructed in 8 this project was achieved through innovation and the assistance of a determined builder. The result was a provocative mix of grown up sophistication and youthful playfulness.
Architecture - Residential - Constructed
The Lavender Bay Boatshed consists of two 3 storey boatsheds that abut one another at the north-western edge of the bay. Built in the 19th century, they are the last remaining timber structures from the era in this part of Sydney Harbour. They have been pain-stakingly restored and converted into a mix of commercial and residential units in the northern building, and a 3 storey residential apartment in the southern building. The design combines contemporary architectural detailing with an inate respect for the spatial and material character of the historic structure. The apartment contains bedrooms on the lower ground floor, where the harbour extends under a glazed floor in the main bedroom, with living spaces on the upper 2 storeys. It is entered mid-level on the landward side via a steep and winding path that weaves its way down from the street through a park. Two large skylights have been inserted in the roof. Conceived as a series of exquisite glazed insertions in the body of the building, they open up views of the different angles and forms of the original boat shed, frame views of the Sydney Harbour Bridge.
Design Event
designEX is Australia largest interiors, design & architecture event featuring brands in furniture, textiles, lighting, architecture, bathrooms, appliances & surfaces.
Design Manufacturer
JP Finsbury is a bespoke joinery workshop, now located in the Inner West of Sydney. New to Australia, Director Adam Price has over 13 years experience in making beautiful, original furniture and interiors for both the commercial and residential markets. The aim for each new project is to work with a talented and inspired designer to create original interiors or objects that are fit for purpose and that have longevity. JP Finsbury is set up for large commercial interior work but can also make bespoke furniture pieces by request. The workshop is supported by a project manager and CAD design.
Design Publication - Online
dmzine contains hints and tips to help designers manage their design studio better. It's not the type of content you will find in management books or university courses – it's a collection of articles based on 25 years experience running a design business in Australia. Every article directly relates to managing a design practice.
Design Publication - Print
green is Australia's leading architecture magazine focusing on inspiring sustainable house, product and garden designs.
Design Retailer - less than 5 shops
dedece is a family owned business operating for more than 30 years. Their primary mission has always been to supply architectural products to the A + D community, meanwhile supporting the industry and nurturing young Australian designers by partnering them up with iconic manufacturers.
Digital Experience - Website
The Australian National Academy of Music (ANAM) are committed to producing the next generation of musical leaders. August were committed to creating a fresh, open and clean look online for the organisation for 2012.
Fashion Design - Accessories and Jewellery
PCD Elements - Designer Eyewear Collection. Handcrafted jewellery for the face, inspired by beautiful and functional elements for everyday pleasure. PCD Elements is an exclusive range of limited edition, titanium and sterling silver eyewear. The collection offers balance and styling, delivering elegant and enduring eyewear. The construction methodology is unique to PCD with the hinge element as the identifying feature, reinforcing strength whilst being integral to the overall chic design. 5 styles, 5 colours, 25 possibilities.
Fashion Design - Fashion Label
Aves Insecta is the debut collection from Tettmann.Doust, which begins their anatomical study of birds and insects. Inspired by a mutual curiosity in aesthetics associated with the study of nature, their fascination with birds and insects takes on a scientific charm as the two deconstruct various anatomies to create their own symmetries and systems.
Fashion Stylist
I was inspired by a woman who is civilisied, noble and appreciate with her roots. She will not trying to be whom she is not, rather to outshine of who she is. A sense of Silence, Subtlety and Fluid are the keys of this collection.
Graphic Design - Corporate Identity and Branding
Regal Rogue is the first native Australian aromatic vermouth in the market – and a damn fine drop! Squad Ink was brought into the mix to create the brand identity, packaging and launch material for this innovative small batch vermouth. Vermouth is mostly a European tradition. Regal Rogue turns this upside down with a daring blend of native aromatics to flavour fortified Hunter Valley Semillon with bush lemons, finger limes, vanilla and thyme: a new world vermouth that is thoroughly Australian. The Regal Rogue brand has received an amazing response, rejuvenating a dusty alcohol category with a fresh and innovative approach. From the beautifully illustrated bottle to the cleverly crafted launch material, the brand takes shape around a charismatic knight and his devoted owl companion. We've created a new and exciting story with a classic tone to introduce an innovative product to the Australian market.
Graphic Design - Corporate Identity and Branding
With a merger with Austar on the horizon, it was time to refocus and refresh the FOXTEL Brand from the inside out, to put customers and their entertainment experience more firmly at the centre of everything, to more powerfully stand for a differentiated content plus technology offering, and to reinvigorate colleagues across the business behind a powerful, common purpose.
Graphic Design - Environmental
Frost was briefed to deliver branding and environmental graphics for Rio Tinto's Brisbane Regional Centre. The core idea was to bring the many diverse business units together as one, encouraging collaboration between staff.
Graphic Design - Illustration and Type
Posters to promote themed exhibitions by the Ludlites, a collective of lo-fi photographers who shoot exclusively using plastic cameras and film.
Graphic Design - Publication
Frost had the opportunity to create a pivotal piece of brand communication to launch International Out-of-home media company, Eye. Our remit was to reach and captivate customers and key influencers.
Graphic Design - Three Dimensional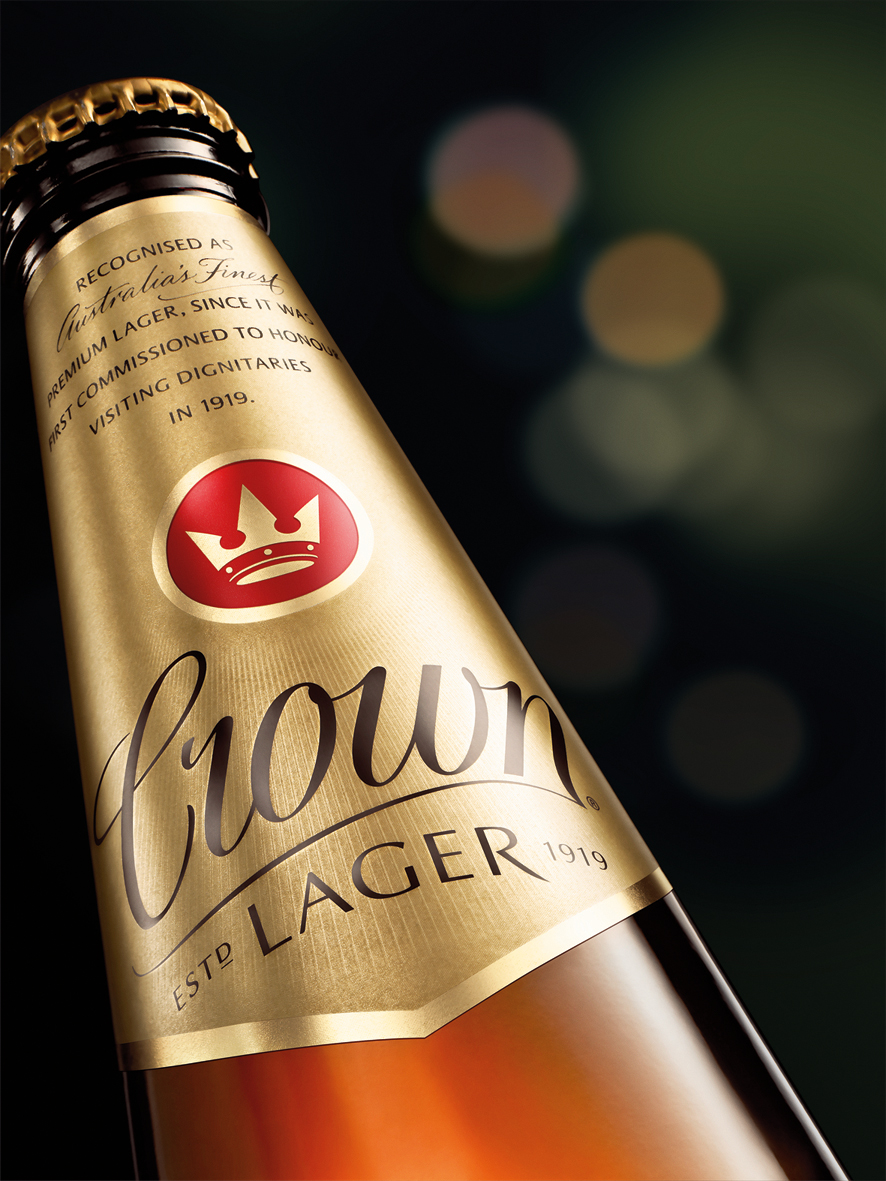 Davidson undertook a refresh of the iconic Crown Lager brand to both contemporise and reinvigorate the brand, and restore its status as a dominant player in the premium beer landscape.
Installation Design - Exhibit
Did you know 90% of people who are blind see light? cBraille is an exhibition to raise awareness about the importance of light for people with vision impairments. Using Dome tipped LEDs as braille, a person who is blind can locate the braille with their eyes and read the tips of the LEDs with their fingers, like regular braille.
Interior Decoration
This project commenced in Arent&Pyke's first year of operation, unfolding over four years and involving finely resolved details which were slowly and meticulously layered over time - much like our business. Set amongst the trees in urban Balmain, this century-old workers cottage, just a stones throw from the harbour, was a delight. Taking our cues from the large and growing art collection the scheme is warm and livable, and spaces were planned according to their specific activities and enhanced with highly detailed joinery.
Interior Design - Corporate or Hospitality
World-renowned chef Jamie Oliver's latest venture in Sydney's CBD was unveiled to the public on October of last year. Offering delicious, rustic Italian dishes with his trademark Jamie flair, the opening of Jamie's Italian on Pitt Street excited his many devotees; popular from the beginning, the restaurant has continued to thrive in Sydney's restaurant scene. In early 2011, leading hospitality design consultants, peckvonhartel were invited by Pacific Restaurant Group (PRG), Jamie Oliver's appointed Australian partners, to convert a dramatic site in Sydney's Pitt Street into a fully functioning, open plan restaurant to cater for up to 200 guests. The establishment is an Australian first for the Jamie's Italian brand of restaurants whose groundbreaking concept has proved a phenomenon in the UK having already collected several industry awards for value, quality and design.
Interior Design - Public or Institutional
The design for a creative writing centre for young people in inner city Sydney references Moby Dick, a space rocket and time tunnel. The immersive space of oscillating plywood ribs is brought to life by red planet light and sound projections to provoke fun and unleash creativity. Moby Dick, H. G. Wells' Time Machine and 2001: A Space Odyssey by Stanley Kubrick - the stuff great stories are made of. And the inspiration for the design for the Sydney Story Factory.
Interior Design - Residential
This two storey, 4 bedroom beach house rests on the hilltop overlooking Sydney's iconic Palm Beach. The house had previously been refurbished but was lacking the 'serene' beach house feel the owner required.
Interior Design - Retail
The project establishes a new interrelated bar and cafe precinct consisting of three premium outlets. The new area is delineated by a flowing wall of natural timber battens thereby linking the three tenancies in a 'precinct'. The brief required each tenancy to have its own discernible identity; the challenge was to avoid a basic compartmentalisation but to create an interconnected zone that still respected the need for difference.
Interior Design - Retail, more than 5 shops
From the humble beginnings of a lone café in 1994, to the booming "Breadtop" empire that we know today, brothers Kenneth and Simon Ip have established an exponentially growing business that has become a popular household name. The duo was presented with their big break from Crown Casino which turned their earlier years of struggling business into a flourishing venture. In 2002, the first Breadtop store was opened. Since then over 60 stores are in operation throughout Australia. Having been trained in Hong Kong, Japan and France, co-founder and head pastry chef at Breadtop, attended the renowned training school Ecole Nationale Superieure de la Patisserie, Confiserie, Glacerie and Chocolaterie in Lyon. This multicultural experience inspired the combination of Asian and Western cultures to cultivate a fusion-style identity that Breadtop is known for. Breadtop is a contemporary bakery that is synonymous with quality, freshness and affordability. Their "baked on premises" retail concept has consistently attracted the masses. A greater consciousness about health and food production was recently sparked within the general public, and Breadtop utilized this movement of thought and applied it to their business model.
Landscape Architecture
The City of Sydney is committed to delivering innovative urban design projects that improve the quality of the public domain for residents, workers and visitors. Sustainable Sydney 2030 is the City's plan to guide the development of Sydney. The Strategy responds to the community's desire for a more vibrant, cultural, lively and connected city, where the economy thrives, art and culture are encouraged and people feel connected to the local community. A key objective is to make Sydney a cycling city with an ambitious target of 10% of all city trips being made by bicycle by 2021. To achieve this, social research showed a critical entry barrier to cycling was safe separation from traffic. The Bourke Street cycleway forms part of an important seven-kilometre cycling corridor from the Green Square urban renewal precinct in the south to Sydney Harbour in the north. For most of its length the route is a bi-directional cycleway and separated from parking and traffic. The facility is attracting new people to bike riding and through careful consideration of Bourke Street's built and landscape heritage, the facility also provides a new appreciation of one of the great streets in Sydney's inner east.
Lighting Design
A dazzling array of light and movement named "Luminous", is spread across a 2400sqm building facade, across two buildings, the building is home to the Commonwealth Bank at Darling Quarter. The animated faced is the world's largest permanent interactive light display, the gentle yet striking installation will be renowned for its changeable canvas allowing artists and the community to meld technology and light. The benefits of an interactive digital facade includes improved social engagement with the public, enhanced retail place-making and marketing opportunities.
Motion
Disney Junior reflects the emotional connection generations of consumers have to Disney storytelling and Disney characters, both classic and contemporary. Our programming blends Disney's unparalleled storytelling and beloved characters with leaning components, emphasizing social and emotional development, while also including more traditional learning such as early math and language skills.
Product Design - Business and Technology
"Sydney Opera House is not only one of the busiest and most famous performing venues on earth, it is also home to technical and project management teams entrusted with designing the next generation of the buildings systems. Responding to a brief to create a truly world leading design for it aging Stage Management System that controls all FOH and BOH communications, video and audio, Charlwood and the Sydney Opera House team conceived a truly beautiful design solution when tasked with replacing the six stage management desks as part of the largest technical upgrade project since the Sydney Opera House opened in 1973." David Claringbold – Director, Theatre & Events – Sydney Opera House.
Product Design - Business and Technology
Armarac Modula systems are unique environmentally controlled, wall-mounted enclosures for 19-inch rackmount computer, networking, and communications equipment. Armarac enclosures are the ideal way to protect critical equipment wherever space is limited – even in harsh or unsecured environments
Product Design - Consumer
A well-known Willow favourite, the "Quick Serve" Cooler is now available with a stylish makeover. The design is enhanced with a robust retractable handle, rugged all terrain wheels and a "tropical" corrugated roof to bounce off those hot summer rays. As the name suggests, the cooler includes a quick access hatch to grab a chilled drink or cool snack, while still keeping the main corrugated lid closed. Made by Australians for Australian conditions.
Product Design - Consumer
The POURVIN Light project was initiated through the the love of red wine and was pushed along because of the sheer originality of the concept. Wine Geeks around the world are marvelling at the simplicity of the product, its elegant design and absolute functionality. Getting "the nod" from wine professionals was a key element to our development and design. We took advice from some of Australia's top wine industry brains while creating the POURVIN Light. We wanted to give the wine industry a reliable and beautiful tool to improve the decanting process. We also wanted to educate the wider wine drinking public about the age old art of decanting using light and the benefits it brings.
Product Design - Heavy Machinery
The DEEPSEA CHALLENGER is a single occupant research submersible designed, engineered and built in Australia by film director James Cameron and Ron Allum from Acheron Project. The 12 ton sub was specifically designed to explore the darkest, deepest parts of the ocean. In these areas depths can exceed 11km, which is deeper than Mount Everest is high. The challenges faced were comparable to those in space exploration and critical attention was paid to the physics of deep-water pressure, to the requirements of exploring the bottom of the ocean and to the complete safety of the pilot.
Product Design - Housing and Building
The Greenwall Company are proud to bring to you the next advancement in green roof technology - the EcoPillow. Modular in design, the EcoPillow is a pre-grown living roof that offers all the proven benefits of a green roof while radically reducing risk and cost of the roofing structure. The EcoPillow structure and the growing medium were developed for their lightweight properties, making the EcoPillow just 60kg/m2. Creating a lightweight and modular product were the design priorities. The EcoPillow can also be easily relocated, further enhancing its adaptability. As a pre-grown, and fully encased product, the EcoPillow is incredibly quick to install and reduces the risk of failure from extreme weather conditions, wind scour or rain erosion. The semi mature plants provide cover from day one, reducing establishment time, and the likelihood of weed invasion – the two primary drivers of maintenance cost. With 94% of the materials recycled it is an innovative way to take waste products destined for Australian landfill to reduce our carbon footprint.
Product Design - Sport and Leisure
The SOLID INFINITY SYSTEM is a world first* systemised, surf and sport storage solution. This ingenious invention allows you to hang anything, anywhere, anytime! You can adjust it, reconfigure it and add to it.... Install it once and use it forever. The SOLID INFINITY SYSTEM allows "you" to become the Designer and Engineer of your own individual custom storage solution. Ingeniously engineered to take massive weights, this innovation will hold your lawnmower, scuba tank, pushbike, kayak, canoe, paddle board, wave ski, surfboard, fishing rod, wetsuit and more... altogether on one single SOLID wall! As your equipment changes or your family grows, the SOLID INFINITY SYSTEM allows complete customisation and adaptation that is instantaneous and effortless. The SOLID INFINITY SYSTEM has unique design capabilities, spatial implications and advantages and also addresses over 60 different markets. The capabilities of this waterproof chameleon are only restricted by your imagination!
Product Design - Furniture
A unique, unconventional bookshelf design created to stylise a classic book. The Book Shelf represents an open book standing up, symbolising everything a book encompasses: stories, adventures, knowledge, immersion, dreams,... The bookshelf comprises of a dark brown recycled mahogany cover, chiseled sides to represent the pages as well as two page-like sides pained in milk paint to give it the authentic touch. The spine is elastic and the two sides are connected with a flexible hinge so that the angle of the open book is adjustable to fit in to any type of corner. Each side of the book shelf is 800mm wide and 140mm high and has three shelfs each.
Product Design - Furniture
Barrel stool or side table is a utilitarian little object that uses reclaimed paint tin closure clamps to fix 16 individual staves without glue into a solid object.
Product Design - Homewares
Designed to solve a universal problem Robin Bristow has come up with a unique and inexpensive solution to transfering food and other products from one container to another."Fantastic, Innovative and Useful" Powerhouse Museum, Sydney, "Great, functional and stylish, wish I had thought of it" Blue Design Inc. California
Product Design - Lighting
If you're running a small lighting rig in a venue, as a rental, or in a retail space, you've probably upgraded to LED lights. Why? Because modern LEDs can produce any colour without the need for filters, so you can produce fantastic combinations of colours with just a few lights. Sounds great, but you've probably noticed that when it comes to choosing a control console most of the ones available either aren't designed to control colour and intensity or are way more complicated and expensive than required. Enter the Stage CL, world first, small form factor, sophisticated and cost effective LED control.
Product Design - Medical and Scientific
The HypoMon is the world's first non-invasive alarm system that identifies sleep-time hypoglycaemia (hypos) in children and adolescents with type 1 diabetes. When monitoring and alerting to hypoglycaemia during sleep, the HypoMon is more accurate, comfortable and affordable than any other system on the market. HypoMon assures a safer, more comfortable night's sleep for all.
Textile + Surface Design - Interior
bleux is... looking through the kaleidoskope spring collection 2012
Urban Design
Darling Quarter is a true integration of urban design, architecture, and landscape architecture toward the creation of a public place within the City. Darling Quarter is where the western edge of the City and the Park meet and is celebrated in a series of defined public spaces, including a pedestrian boulevard, parklands, gateway, children's playground, and activated edges lined with cafes and restaurants. Commonwealth Bank Place is a very different type of office building in a very special location. It is an architecture of human scale, natural materials and warmth of character. The long gently curving facade defines and enhances the public realm with a warmth and transparency unusual in any commercial building. The different scales of the east and west wings of the project respond to and reflect the varying scale of the park and city, united and resolved through the curved roof that draws natural light to the interior. These long forms of timber and glass, capped by the gentle curves and the scalloped apertures of the roof, create a background to the parkland and a foreground to the rising city beyond, uniting the two in a new public place, Darling Quarter.
Urban Design
Conversion of the seating pagoda in Dixon Street to an information kiosk to service Chinatown called for a sympathetic and contextual design. The design approach is to treat the new enclosure as a patterned red lantern by day which is illuminated by night. The Pagoda roof and lantern sit on a plinth that resolves the steeply sloping Goulburn Street footpath. The lantern is inserted inside the existing pagoda structure and is clearly understood as a new volume. It consists of 2 semi-circular halves that are clad with patterned, curved glass; the pattern was created by paper-cut artist Pamela Mei-Leng See with cultural reference to the Chinese community including flowers, fish and birds. The sliding semi-circle of glass screens open to reveal a hot red interior that houses a wall of shelving for brochures, pamphlets and tourist information. The lantern sits to the side of pedestrianised Dixon Street and is experienced in the round. The internal program for the information kiosk is to provide a comfortable space that functions well as a place from which to distribute tourist information.
Wayfinding
Büro North worked closely with John Wardle Architects to develop a wayfinding strategy and design concept that enabled users to navigate the expansive lobby space at the new 77-85 Castlereagh Street development in Sydney.
CATEGORIES
Marketplace Categories
Space
Visual
Object
Experience
Fashion