2014 Sydney Design Awards
The Sydney Design Awards represent the diversity and culture of the Sydney design industry.
Sydney as a recognised global design city, features both local and international design activity, and the shortlisted entries in the Sydney Design Awards represent an annual snapshot of the sophisticated design culture in the vibrant Sydney marketplace.
Like all the design100 awards programs it will celebrate creativity, courage and innovation in design. Uniquely we look at design from both the creator and commissioner. The awards provide a unique opportunity for all sectors of the industry to participate across an extensive range of categories and achieve marketplace recognition.
Over the last few years we have developed a thriving community of design professionals and people in the marketplace who consume and commission a large percentage of the work entered.
There's probably a lot more that you would like to know:
Be one of our 10,000+ followers on Facebook
Join us as we celebrate courage and astounding achievements and developments in the design industry.
Key Dates
12 June - Nominations Deadline
5 August - Extended Deadline
6 August - Judging
13 August - Finalists announced
17 August - Rating closes
20 August - Awards Presentation

Silver, Gold & Best of Winners Announced
Media Release - Thursday 23 October 2014
Winners of the prestigious 2014 Melbourne Design Awards have been announced by design100 Founder & CEO, Mark Bergin at the University of Melbourne, Faculty of Architecture's new state-of-the-art Melbourne School of Design facility.
The coveted Best of awards were announced with the accolades as follows: Design Champion – NAB for the 2nd year running, Best Start-up – Yousili, Best Studio less than 5 – Immediacy, Best Studio 5 – 20 Principals and Best Studio 20+ architecture firm McBride Charles Ryan leading the way with two gold and one silver award winning projects.
"The depth in the 2014 awards has been remarkable, across 34 categories we've awarded 100 winners" said Mr Bergin. With a focus on the design economy, Mr Bergin remarked "a primary goal of the awards is to also provide recognition to the commissioners, who recognise that design is the premise of accelerating business and have the courage to honour their convictions by commissioning new design projects. We're proud to acknowledge their important role in the design equation."
more ....
New Star Design Awards Now Open
NewStar Design Awards
is a scholarship and exhibition program that offers emerging designers an incredible opportunity to win work experience at some of the world's most prestigious design studios and to expose their work through public exhibition.
Working alongside the Collie Print Trust, agIdeas endeavour to provide opportunity to expand the knowledge, skills and experience of our rising design stars on the global stage, expanding their international perspectives and networks.
Entrants are shortlisted by a panel of leading Australian designers. The winner is selected by international designers who participate in the agIdeas International Design Forum as part of Melbourne International Design Week.
To enter, simply submit 3 examples of your best work in either 2D, 3D or Multimedia categories via the leading online creative community
The Loop
.
Please share this amazing opportunity by forwarding this email to your networks or sharing via social media:
#NewStar #yourfolioistheticket
Sydney Design Awards Winners Announced
2014 Sydney Design Award Winners Announced
Wednesday 20 August
Brand X L3 Central, Central Park, Chippendale Sydney
Sydney, 20 August, 2014 - Celebrating courage in design from both commissioners and creators, The Sydney Design Awards are pleased to announce Sekisui House wins the Design Champion Award, among many other outstanding winners at the 2014 Sydney Design Awards. Over 120 design projects were selected as finalists in the Awards, which attracted a record number of nominations.
Awards were announced by design100 and Sydney Design Awards Founder & CEO Mark Bergin, today at the newly created Brand X Event Space L3 Central at One Central Park, Sydney.
more ....
#Shake Your Power - Kickstarter Campaign
Mel C, Maxi Jazz and Maya Jane Coles launch "Hour of Power" campaign to bring power to communities without electricity, through music.
Launched on Kickstarter on the 10th June, this small prototype percussion shaker called, SPARK is generating interest from music industry heavyweights. Simply shaking this device for 12minutes will generate an hours worth of light or charge a mobile phone.
more ....
design100 EOFY Promotion
Australian End of Financial Year Promotion
To mark the end of the Australian financial year on 30 June, we have introduced a design100 EOFY Promo for all our entrants. Simply enter the sponsor code d100EOFY14 in the sponsor code field to receive a 20% discount on all entry fees across all programs.

Valid for entry submissions from 24 June until midnight 30 June
more ....
2014 Presentation
Photo Gallery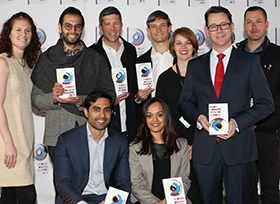 Don't forget to tag yourself, friends and colleges in the photos.
Best Of Categories
All entries submitted are automatically eligible for the relevant "Best of" category.